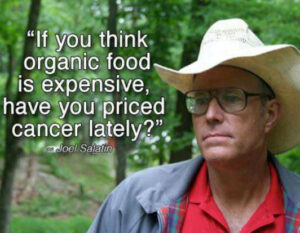 For the past 6 years I have used a CSA. I even consider them to be part of my health care team. I also promote CSA's to my patients. So if you don't know what they are, it's time to be in the know!
CSA stands for Community Supported Agriculture. When you sign up, you are buying a share of that farm's crops in return for a weekly delivery of fresh, local, and often organic, vegetables.
Here are 5 reasons I think everyone should buy a CSA:
It is cheaper than the grocery store – One of the biggest complaints I hear from patients is about how expensive organic food is. However, that's only if you are shopping at the grocery store. Most CSA's provide organic food for the same price or less.
You will eat more vegetables – One of the biggest hurdles to eating more vegetables is that they are not actually in the house. CSA's set you up for success with a box of veggies in your house every week.
The veggies taste soooo much better – Another complaint I hear from patients is that veggies don't taste good. You won't believe the difference in taste between a fresh organic carrot compared to a pesticide laden, bleached, grocery store variety, until you actually try it.
You are more likely to follow through on things you pay for in advance –  Behaviours don't change without making a commitment. It's easy to go to the grocery store once and buy veggies for the week and then fall off the healthy eating wagon once the week is over. When you pay in advance you are more likely to make a commitment to your healthy eating goals.
You are supporting the local economy – I don't know about you but I would rather support someone in my community than a big box store whenever I can. Whether you realize it or not, every time you spend money you are actually voting for what is a priority for yourself and your family.
So, where can you find a CSA in our area? 
Check out this list of local farmers that you can inquire with. There are only a limited number of spots available with each farm. This is the time of year when they start doing their signups so don't miss out!
Earth Haven Farm CSA – certified organic; vegetables, beef, eggs, Tweed
Eva Mae Farm CSA – Brighton
Fiddlehead Farm CSA – Prince Edward County
Green Wheel Urban Farm – Belleville
Melrose Market Garden – Melrose, no Belleville pick-up this year
Thyme Again Gardens – certified organic, vegetables, beef, pork, lamb, chicken, Prince Edward County
Vickies Veggies – certified organic vegetables, Prince Edward County
Now I would love to hear from you? Have you used a CSA before? If there is someone not on this list that you think should be please let us know. Leave a comment below and I'll be back next week with another edition of Doctor as Teacher Tuesday.