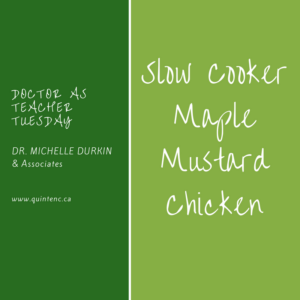 A couple of weeks ago we finished the Belly Fat Detox with great success! We had a total of 40 participants and here are their results:
Lot of energy
Brain fog is gone
Sugar cravings reduced
No bloating
And of course, what everyone wanted in the first place – weight loss!
Today I am including the recipe that was everyone's favourite. It's tasty, it's simple, and it doesn't require a lot of ingredients. Hope you love it too!
Click on the link below to open the PDF for Slow Cooker Maple Mustard Chicken:
Now that you know a delicious dish you can enjoy on the Belly Fat Detox are you wishing I had more?
Well of course I do! You can purchase a one-week Belly Fat Detox meal plan by contacting the office. Cost is $12. After your payment is processed you will receive your meal plan, grocery list, and all of your recipes in a PDF format in your inbox.
Now I would love to hear from you! What is your favourite go-to slow cooker recipe? Leave a comment below and I'll be back next week with another edition of Doctor as Teacher Tuesday!