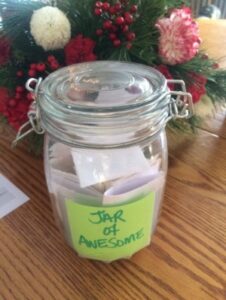 Christmas is almost here and the new year is coming. I like to take a step back during this busy time and really reflect on the year that has just gone by. I want to be grateful for what I have instead of getting sucked into the mass marketing machine of Christmas. For me the best way to do this came from my Jar of Awesome experiment.
What is the jar of awesome you ask? Well it's a simple task that I first heard about listening to a podcast by Tim Ferriss. I think the reason I had that take home from that particular episode is because it really resonated with me.
We often fail to recognize or celebrate the really cool or smaller accomplishments in our lives.
Too often we focus on what is going wrong versus what is going right.
So began my Jar of Awesome for 2016.
I decided that I would write on a piece of paper anything that I felt was an accomplishment, a happy memory, or just anything good that I wanted to remember for the year, and then put it in the jar.
I would then read them all at the end of the year as part of my reflection process.
Incidentally the jar that I used was a mason jar that my old receptionist gave me as gift filled with homemade trail mix. To me it represented a perfect example of how great gifts don't have to be expensive, only thoughtful.
So here's my list for 2016. Every time I read one of them I cry. I guess it's hard to believe that I have made that much of an impact on one person.
But the truth is we can all make an impact…even if it's just one person at a time.
PS – these are all listed in the random order that I pulled them.
Hilton Head for my birthday – AARM conference, Daniels, Bone Fish Grill, riding bikes on the beach (Mike, Jenn, and Steve – you made it a vacation worth remembering)
CN Tower Climb 21:46 (Amie, Foster, Cobra, Michele, and Brandy – thanks for all the laughs and the best train ride and post event party I've had so far)
Awesome vacation Out West (Uncle Pat, Aunt Mary, Jena, Alicia, Kiera, Zoe, Connor, Malia, Carolyn, Johnny, Trevor, and Elyse – I enjoyed it so much and never realized how much you can miss people until you see them again)
Birthday dinner at East & Main (with Dave, Leone & Mike in a thunderstorm no less – don't get the duck)
Stress seminar #2
1st birdie of the season – May long weekend
Fax cover letter from an MD in my community – I know this probably shouldn't matter but somehow it does
Reached my fundraising goal for the CN Tower Climb –thanks to Uncle Ron for putting me over the edge
Note from Sarah – "Thank-you! I so appreciate you welcoming me into your practice and inspiring me every week with new ideas. I look forward to having you as a colleague and hopefully continuing to inspire each other into the future!"
Note from Colin & Katrina – "Thank-you for being a part of Declan's life the way you have chosen to be – it means so much to us to have you both as Declan's godparents! We appreciate you coming up and celebrating today with us. We look forward to many more memories to make with you!
Selling out Stress seminar in one day
Golf trip to Myrtle Beach (Mary, Laurie – best roommates I could have, the rest of you crazy bitches – a reminder that getting older is all about having more fun!)
Completed student externship
Declan's godmother
Birdie – hole #2 Trillium – a reminder that close only counts in horseshoes – best pic of "almost a hole in one" 
1st webinar (thank-you to Carolyn and Dana for also making this happen)
Mom & Dad's surprise birthday party – Sorry Wayne and Erica, I should have known that you were here with Ron
Sky diving – I have often pondered why I impulsively said yes, Susan thanks for asking – this also confirmed I am not an adrenaline junkie – I had an adrenaline hangover for the rest of the day
Created my blog schedule for the year
I'm an aunt X3 this year
Note from Bre – "Michelle, Mother's Day is about celebrating a woman who is important in your life. It is about celebrating someone who is a teacher and role model. This is a day to celebrate someone who you look up to as a positive influence. Well, you have been all of these things for me. I believe you should be celebrated as well. Thanks for being so awesome! Cheers to you!
Now looking back there are definitely other things that I could have added or forgot about adding to the jar. I find it interesting however that this is what I did add. There is an overwhelming theme of spending time with family and friends and feeling accomplished and appreciated. I was grateful that I was able to spend most of my time aligned with what I value most.
I started this "experiment" again in January of this year. Over my Christmas holidays I will be reading my list for 2017. Even though this year has been one with more pain and heartache than I anticipated, I am confident that when I read through my jar of awesome I will still feel like the year was, in the words of my ex-father-in-law, "Totally awesome"!
Now I would love to hear from you! What is one thing that you would put in your jar of awesome for 2017? Leave a comment below and I'll be back in the new year with a brand new edition of Doctor as Teacher Tuesday. Also, keep your eyes open for a special invitation to join me on my Belly Fat Detox in January. Merry Christmas and Happy New Year to you and your family!