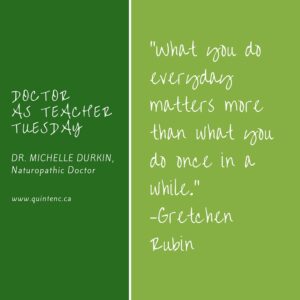 If you have been following Doctor as Teacher Tuesday for a while you might already know that Gretchen Rubin is one of my favourite authors to learn great ideas about habit change from.
For the last two years in January I have recommended taking her Tendency Quiz to find out how to work with your individual strengths to create habit change that will last.
This year I would like to summarize some strategies that she suggests for Eating Better Than Before.
Clean Slate. A new situation makes it much easier to change habits. If you move to a new city, change jobs or schools, or have a new routine, take advantage of the clean slate. New job? Start taking your lunch to work. This applies to the New Year as well, so start taking advantage.
Abstaining. For most people—but not everyone—moderation is too tough; it's easier to give up something altogether. For Abstainers, it's far easier to eat no cookies than one cookie. I am definitely an abstainer, so now that Christmas is over the treats are out of the house or at least in the freezer.
Convenience and Inconvenience. Make it easy to eat right and hard to eat wrong. Keep healthy snacks in your desk so you don't use the vending machine. Store the crackers on a high shelf. Another tip that I learned from a friend and colleague of mine is to store the foods you want to eat more of – veggies – in a clear container, and the foods you want to eat less of in a solid container.
Monitoring. Keep track of what you eat: how many cups of cereal, how many slices of pizza. Don't eat out of a container. Decide how much you want to eat, and put it on your plate—and no seconds. I often suggest patients keep track of how many veggies they are eating in a day. We often overestimate the amount we think we are eating and then underestimate the amount of junk we are eating.
Safeguards. Anticipate temptation and decide in advance how to handle it. What will you eat at the birthday party? On vacation? If Aunt Bertha serves her famous mac and cheese? Another tip I use with patients – If you are going to a restaurant, look up the menu ahead of time online and decide what you want to eat.
Pairing. Only eat X when you're doing Y. Only eat when sitting at a table. Only eat a croissant after you finish an exam. Another strong pairing is exercise and eating properly. Just showing up to your exercise class could help keep you on track with your meal plan as well. 
Loophole-Spotting. We use loopholes to justify breaking a good habit. Watch out for these popular loopholes. In my experience with patients loopholes are a dime a dozen so learning how to spot these loopholes can stop you from making the same poor choices over and over again. 
• Tomorrow—"It doesn't matter what I eat today, because I'll eat great tomorrow."
• Fake-Self Actualization—"You only live once. I can't pass this up!"
• Lack of Control—"Someone brought cupcakes to the meeting."
• One-Coin—"What difference does one brownie make?
Now I would love to hear from you! Which strategy do you think will make the biggest difference for you to eat better than before? Leave a comment below and I'll be back next week with another edition of Doctor as Teacher Tuesday!