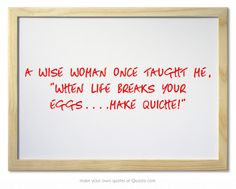 This recipe is a simple dish that you can have on the weekend for breakfast, if you are hosting a brunch, or even want a quick and simple dinner that is also a great leftover for lunch the next day.
It gives you all the taste without the worry about your waistline.
It will take you about 50 minutes to make and will serve 4 people. I always suggest making two at once and sticking one in the freezer after it's cooked.
Ingredients
1 Sweet Potato (sliced into thin rounds)
3/4 tsp Coconut Oil
7 Egg
3 Garlic (cloves, minced)
8 Green Onion (chopped)
4 cups Baby Spinach (chopped)
1 Tomato (diced)
Sea Salt & Black Pepper (to taste)
1. Preheat oven to 425. Grease a glass pie plate with a bit of coconut oil. Cover the base and sides of the plate with the sweet potato rounds. Layer the rounds until no glass is showing. Bake in the oven for 15 minutes.
2. Meanwhile, crack eggs into a mixing bowl and whisk well. Set aside.
3. Heat coconut oil in a skillet over medium heat. Add in minced garlic and green onions. Sautee for 3 to 5 minutes. Add in chopped spinach and saute just until wilted. Remove from heat.
4. Add spinach mix and diced tomatoes into the egg mix. Season with salt and pepper. Stir well.
5. Remove sweet potato crust from the oven. Pour egg mixture over top of the crust. Reduce temperature of the oven to 375. Place quiche in the oven and bake for 30 to 40 minutes or until the top is golden brown.
Now that you know one delicious dish you can enjoy on the Belly Fat Detox are you wishing I had more?
Well of course I do! You can purchase a one-week Belly Fat Detox meal plan by contacting the office. Cost is $12. After your payment is processed you will receive your meal plan, grocery list, and all of your recipes in a PDF format in your inbox.
Now I would love to hear from you! What is your favourite go-to simple, versatile meal? Leave a comment below and I'll be back next week with another edition of Doctor as Teacher Tuesday!