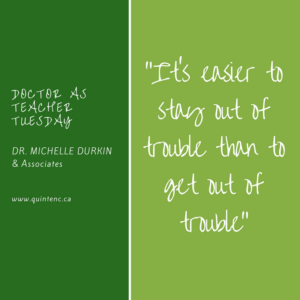 Welcome back from the holidays everyone!
I hope you had a wonderful holiday and are ready to make 2018 one of the best year's yet.
In order to do that I am going to keep one of my favourite quotes top of mind.
"It's easier to stay out of trouble than to get out of trouble."
Another more visual way of putting it, (courtesy of a long time patient), is it's easier to avoid stepping in s#*t than trying to remove it once you've done so.
This could not be more true, especially when it comes to our health.
Are one of your New Year's resolutions to get more serious about your health?
Here are 5 blood tests that I consider worthwhile checking every year to identify where you might need to make some changes and get serious about cleaning some s#*t:
Highly sensitive C-reactive protein (hsCRP): This is a marker of inflammation that is particularly specific for the cardiovascular system. The higher this number the more likely the incidence of a heart attack. This number will also be increased with food allergies, and chronic infections in the teeth, and other chronic inflammatory conditions.
Hemoglobin A1C (HbA1c): This is a marker of how well your blood sugar has been controlled over the last 3 months. The higher this number is the more often your blood sugar is too high and attaching to tissue proteins. An abnormality is an early warning sign of diabetes, Alzheimer's disease, and even cancer.
Vitamin D: This is one of the most common vitamin deficiencies in Canada. Low levels will increase your risk of inflammation, auto-immune disease, depression, and hormone imbalances, just to name a few. I have had several people show up low despite spending lots of time outdoors and/or taking Vitamin D already.
Gamma-glutamyl-transferase (GGT): This is one of your liver enzymes and will be elevated when your body has a high exposure to toxins. Studies have shown that even in the high normal range people can be at higher risk of developing diabetes as a result of toxin exposure. If this number is low you could have a deficiency in detoxification enzymes.
HDL:TG ratio: This can be calculated from a conventional cholesterol panel. The HDL, on it's own, represents how well your liver is producing the useful and healthful "good" cholesterol. But if you have high TG, your HDL usually drops. Conversely, as you move toward a healthier metabolism, your TG will reduce and your HDL will go up. The ratio between the two is important. The optimal range: 0.5–1.9 and heart disease risk is found at ratios >3.0.
Now I would love to hear from you! What strategy are you going to implement this year to stay out of trouble when it comes to your health? Leave a comment below and I'll be back next week with another edition of Doctor as Teacher Tuesday!