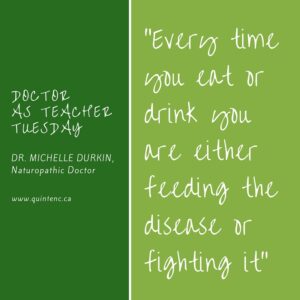 Consider this fact:
"More than 50% of us (Canadians) are now overweight or obese, insulin resistant, and inflamed; the rates of diabetes are skyrocketing; and cancer and cardiovascular disease are the most common killers. Roughly 70% of chronic disease is caused, directly or indirectly, by what is referred to as the axis of illness: inflammation, obesity, and insulin resistance – three factors that work synergistically over time to worsen health outcomes."
So what do I recommend, and implement in my own life, to improve health outcomes instead of worsening them?
I treat the axis of illness.
Reducing inflammation and treating insulin resistance are at the core of almost all successful treatment plans.
It starts with a high quality diet.
A diet that teaches patients that low fat does not mean healthy. That nutrients need to come from real food, not artificially fortified grains. That a low-carb diet may be at least one effective intervention for patients struggling with obesity, heart disease, and diabetes. That polyunsaturated, refined vegetable oils are huge triggers of inflammation. That there should be a cap on sugar, and not just the white stuff.
I follow it up with high quality supplements.
I love the saying, "you can get further digging a hole with a shovel versus a spoon." That is the way I view supplements. But they have to be the right ones, they have to be high quality, AND there only has to be a few of them.
Here are my top supplements for treating inflammation and insulin resistance. Usually patients are on one to three of them for the most effectiveness.
UltraInflamX 360 medical food
UltraMeal Cardio 360 medical food
EPA/DHA 720 fish oil
Omegagencics Mega 10 fish oil
Vitamin D drops
Ultra Flora Balance probiotic
Ultra Flora Control probiotic
Because I am so passionate about treating inflammation and insulin resistance with my patients I will be doing another group detox this spring starting on Monday May 7th.
In January the Belly Fat Detox focused on insulin resistance. This time we are going to focus on inflammation. I sent an invitation out at the end of last week to everyone on my email list. Watch for a reminder this week. I hope you will join me.
Now I would love to hear from you! Are you ready to commit to improving your individual health by doing an inflammation detox? Leave a yes or a comment below and I'll be back next week with another edition of Doctor as Teacher Tuesday!